Baby shower, gender reveal & baptism
Are you or someone close to you expecting a baby? CONGRATULATIONS!
Baby shows and gender reveal are becoming more and more common in Sweden. Of course the baby should be celebrated!
Arrange a surprise party for the mother and celebrate that they will soon be another in the family.
With us you will find everything from balloons, baby decoration and table setting.
We have everything for your baby shower!
Baptism or naming are also important events to be celebrated.
Our baby decorations are just as suitable for baby showers as for baptisms or the first birthday.
With us you will find everything you need and products you did not even know existed!
In our stores we accept orders for diaper cake and of course helium balloons and balloon bouquets,
with or without personal glitter text.
All our stores have a large selection of balloons that are especially aimed at gender reveal, baby shows, newborns or baptisms.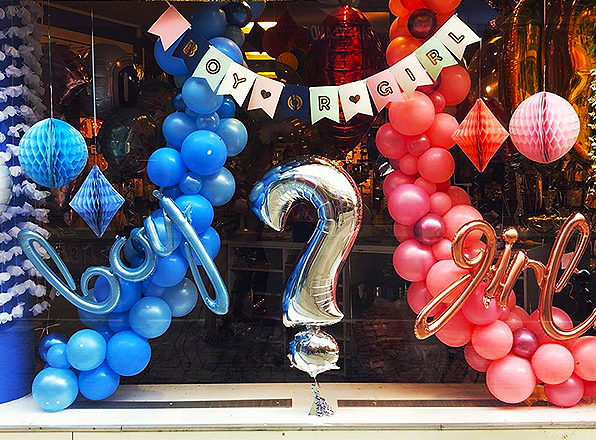 Gender reveal party
It is becoming increasingly common to reveal the sex of the baby with a gender reveal party during pregnancy.
Most people hold the party during the first four months of pregnancy and the party is usually planned by the parents-to-be themselves.
Many couples choose not to know the child's gender in advance, but this is also revealed to them at the gender reveal party.
They ask the midwife to write down the baby's gender on a piece of paper that is placed in an envelope. If someone other than the parents-to-be planning the party, the note is left to that person, otherwise it is left directly to the bakery or those who arrange
the moment of surprise.
The surprise can take place through several different creative ideas, where the child's gender is revealed in pink or blue.
* Pop a balloon – The balloon is filled with balloons and confetti, the couple then pops the balloon.
* Powder bomb – A cloud of smoke is formed.
* Cut out a cake – The cream on the inside shows which gender it is.
* Confetti cannon – make it a joint activity shoot multiple confetti cannons at once.
* Piñata – Let the couple beat the piñata until it breaks.
* Silly string shower – The guests spray silly string on the couple.
* Open a box – Fill it with helium balloons that fly up when the box is opened.
The party is usually celebrated with close friends and relatives and is a fairly relaxed event.
No gifts are expected, but a "go away" gift is usually included, which in many cases is something for the expectant mother.
Some classic gifts are; bathrobe, sweets (or anything else the pregnant mother is craving during her pregnancy),
a spa kit, a piece of jewelry and more.
The party can advantageously be decorated in both pink and blue, as the revelation is the surprise itself.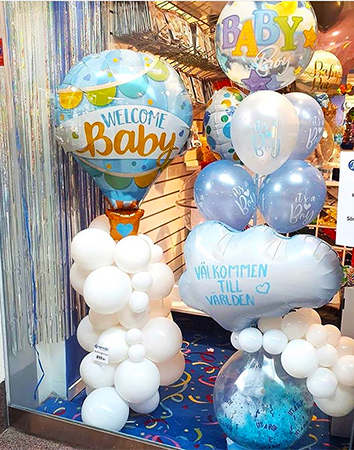 Baby shower
A baby shower is a surprise party for the expectant mother.
It is usually scheduled after week 30, but not too close to the final stage of pregnancy.
It is the closest girl friends and possibly also close colleagues who are usually invited and most often
meet at the expectant mother or at one of her friends.
At a baby shower, gifts are given to the upcoming baby.
A tip for you who are planning a baby shower is to divide responsibilities between you who are to participate.
Someone can be in charge of the decorations, one can make a diaper cake, one can arrange games and quizzes
and one can plan food and drink.
Make sure you see each other well in advance of the baby show, so you have time to decorate and get ready until the expectant mother arrives and have an unforgettable surprise party!
Baptism and naming ceremonies
Baptismal celebrations and naming ceremonies have a long tradition and are celebrated in different ways in several cultures and religions. Common to all is that the child is in focus and is the main character.
One way to easily create a pleasant atmosphere for the party or reception is to use decorations.
Pennants, garlands, napkins and a nice decoration on the tables work wonders for the party atmosphere.
Something that is becoming more and more common is that you make a place in the room
where you take nice pictures of the child and the guests.
Balloons are something that is very suitable for baptism and will be very good in the picture.
Preparing a gift table can also be a good idea.